30 House Siding Ideas That Will Get You Ready for Spring
I
f you are looking to replace or update your exterior siding and are not sure where to start, don't worry, we've got you covered! The exterior of your home is equally as important as its foundation or its interiors because it is the first impression of you and your residence. That being said, many homeowners put finding the right house siding for their home or building as their top priority. These 30 siding ideas will guide you through different ideas you may never considered and the best choices for your home.
Cool & Classical
Source: Pinterest
This property includes a unique variety of exterior sidings but have stuck to two colors throughout that complement each other. Sometimes the saying is true that less is more!
Charming & Traditional
Source: Pinterest
This traditional home is done in the same color as the lap siding and matched with the same darker trim which adds a sense of uniqueness to the home.
Emphasizing Visual Height
Source: Pinterest
This unique design and the ordinary house siding on this outbuilding brings a visual boost to the height of the overall structure.  The open window concept enhances the height, making it a one of a kind home.
White on White
Source: Pinterest
Using white as a house siding color can be a courageous option when it is used for the entire exterior of the home such as the one featured above. This look gives this home a traditional appeal, making it a classic.
Beachfront Appeal
Source: Pinterest
A beachfront home should be designed to match their surroundings in regards to the style and color. This property consists of cool, light colors throughout that really emphasize the green grass and the surrounding blue skies.
Monochromatic Exterior
Source: Pinterest
This home has incorporated a mix of white, gray and black on the exterior making it a cohesive look to the home. It also creates a monochromatic visual that is guaranteed to be eye catching.
Rustic Style
Source: Pinterest
There is just something about incorporating wood into your home design plan. This featured house includes a natural, wood-looking siding throughout the exterior of the home, making this the most modern cabin of the century. This look also makes the home blend into its surroundings nicely.
Geometric Contrast
Source: Pinterest
The roofline of this home features different angles throughout the whole exterior that add contrast and visual appeal.
Distinctive Textural Elements
Source: Pinterest
This home has a two different forms of texture incorporated throughout the exterior of the house. However, the uniqueness of these two very different materials work well to counterbalance each other.
Warm Wood Siding
Source: Pinterest
Incorating wood sidings is a sleek way to display a natural look to the exterior of your home. This tone of wood- like siding is a deep rich color that creates a relaxing space for you and your guests.
Simple Exterior Tones
Source: Pinterest
You don't need a lot of fancy siding or decorative options to create an appealing home exterior. This home featured above uses two warm, neutral tones that are appealing to the eye, yet are simple and subtle.
Warm Roof Tones
Source: Pinterest
The brick siding incorporated throughout the property leading to the roof has transitioned into a warm, wood-look rooftop. This incredible design is so uniqye and flows with the theme of the rest of the house.
Natural Neutrals
Source: Pinterest
This home uses a white trim to contrast the neutral tone of the siding. It creates a classic and natural appearance and proves that home exterior siding does not always have to be a bold color in order to stand out.
Subtle Adjustments
Source: Pinterest
When changing the shape or size of the house siding, you can create a more subtle look by keeping the color the same throughout. This building features vertical and horizontal siding and has added different sizes throughout the vertical sidings to create a subtle, yet cohesive look.
Victorian Style
Source: Pinterest
Victorian homes have been known for utilizing decorative siding features and colors. This home features two colors, unique trim patterns, and several styles of siding to make the house as elegant and interesting as can be.
Color Saturation
Source: Pinterest
Some colors really stand out and look their best when they are saturated, including this shade of blue. This color makes the home a statement with the grey and brick sidings and white trim.
Farmhouse Charm
Source: Pinterest
When your home's architectural style is both plain and define sometimes adding an eye-popping barn door is what you need to bring out the style of your farmhouse!
Distinguished Trim
Source: Pinterest
By keeping your home one color of siding from top to bottom, it may result in it losing some detail and interest. That is why using a bold white trim can help make your siding pop, giving it a polished and clean look.
Side by Side Siding
Source: Pinterest
This property features a beautiful fieldstone chimney as a dividing point for the sidings of the home leading into the backyard patio.
Reserved Colors
Source: Pinterest
If you may have thought using a green on your home may lack character, that is not always the case. This forest green home has just enough color to be compelling, while keeping the traditional look in the design.
Porch Appeal
Source: Pinterest
A porch can be an attractive feature on any home simply with wooden panels and a few pieces of furniture. It makes the home's exterior look as cozy as the interior.
Subtle Tones
Source: Pinterest
For this home, a lighter color tone has been used to pair with the white trim throughout the exterior. The unique contrast in siding styles makes the home visually appealing and draws attention to the emphasized height of the home.
It's all about the texture
Source: Pinterest
This home uses not only different colors of architectural panels to incorporate contrast, but also has wood-like siding to contrast the smooth panel and exterior brick. This design makes the look clean and cohesive.
Towering Brick
Source: Pinterest
The contrast between both the colors and the materials of the brick shown above adds subtle interest without overwhelming the property with too many distinct tones.
Clean & Modern
Source: Pinterest
This sleek property displayed above uses horizontal lap siding to emphasize the clean and contemporary look with a sharp gray color palette throughout the exterior.
Addition Appeal
Source: Pinterest
Homes such as the one shown above, have a distinctive design that feature both two very different building house siding exteriors. This particular home features a contemporary wooden siding with an appealing contrast to the light color and style.
Matching Windows
Source: Pinterest
The decorative features on this home make the most out of the size, shape, and placement of the windows on both the first and second floor exterior.
Perfect Trim
Source: Pinterest
When contemplating the look you desire for your home exterior, the trim is just as important as the house siding. Combining the two elements together is what creates the main attraction for your home. This home has used a light shade of green and a heavy white trim to contrast the siding.
Switching Up the Sides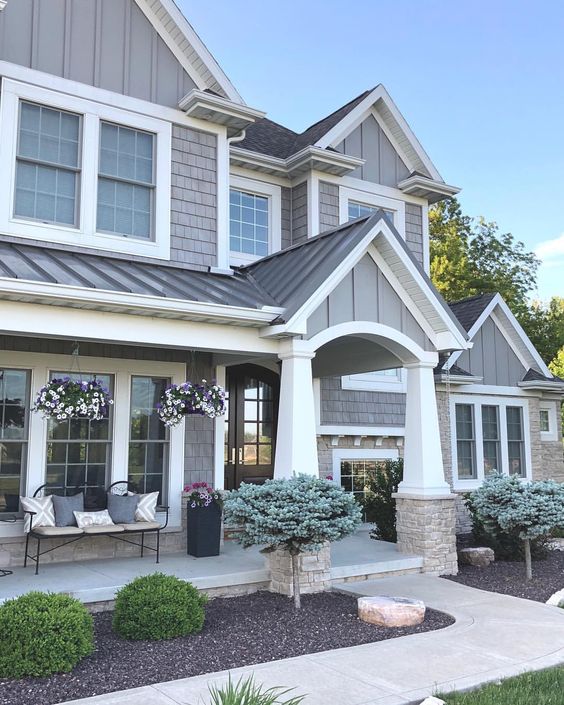 Source: Pinterest
The sides of this home include architectural panels which keep the exterior from becoming plain, and help break up the long lines of the house visually by adding interest to the design.
Natural Accents
Source: Pinterest
By using architectural panels on the exterior of your home, it can provide a contemporary look for any home. Many homeowners have been drawn to using wood-look lap siding as a natural accent surrounding the front door, making it a very inviting addition the home for guests.
About Us
First founded as a siding company in 1977 in Waunakee, near Madison, WI, our company has evolved into a full-service interior and exterior remodeling team. With years of industry experience in materials selection, design expertise, and professional custom craftsmanship, we've established ourselves as the premier remodeling company in South Central Wisconsin.
If you have any questions, give us a call at 608-709-7517  or schedule a free consultation here.