Farmhouse Style Kitchen Design Ideas to Inspire You
MODERN FARMHOUSE STYLE KITCHENS
Focusing on natural materials and welcoming guests.
The kitchen is the heart of the home regardless of the design and style. For those of you who love to entertain and have a house full of guests always feeling welcome, there's no better option than a farmhouse style kitchen. If you typically aim for a more modern design, you are in luck because adding natural materials on a neutral and modern space is the typical interior of a farmhouse kitchen. To continue to make the room feel more modern, wood materials are a great options for your countertops and furniture to correspond to the overall theme. Finally, to add texture to the space, try adding some antique components to your lighting and other additions.  To avoid making your room feel a little dated, we suggest adding antique pieces moderately.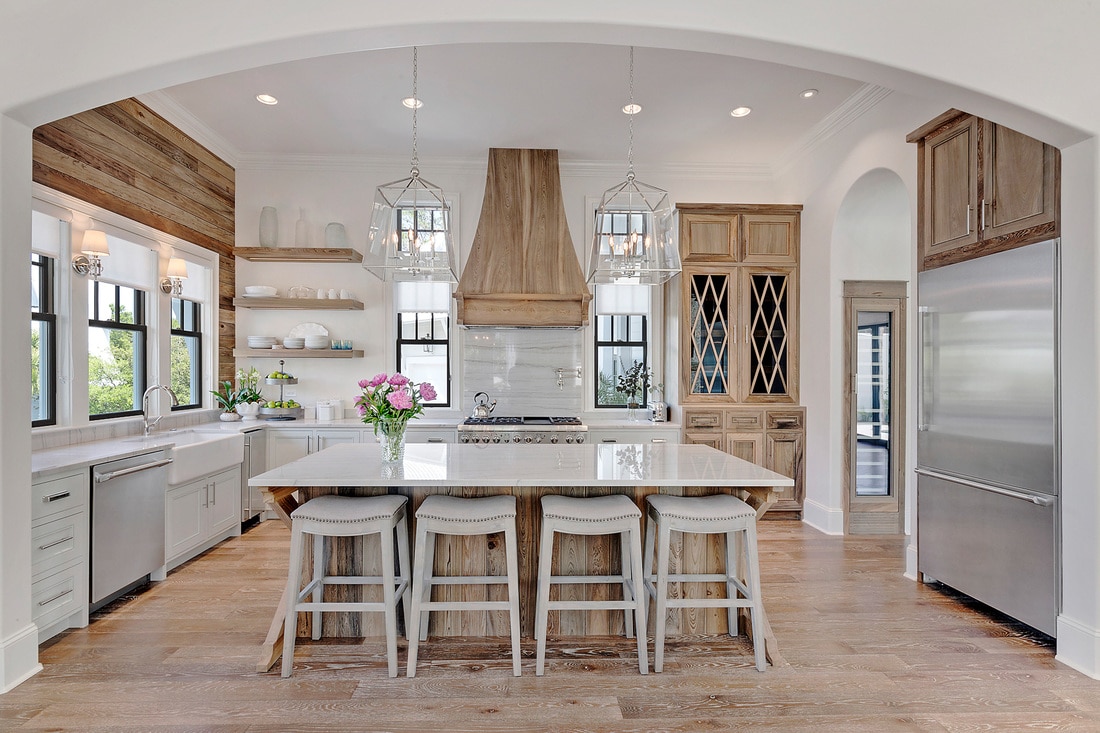 Wooden Barstools (above)  |  Exposed Wood Beams (below)
Wooden bar stools and exposed ceiling beams can become an integral part of your home's style, creating a welcoming and cozy farmhouse feel.
Modern farmhouse design has become the design of choice because it features a subtle balance between modern contemporary and traditional aesthetic. Farmhouse kitchens are typically light, bright and airy because of the large amount of natural light shining through the space. To enhance the bright, open look, try integrating neutral colors as the base of the design while opting for light shades of white and gray for the cabinets.
The farmhouse kitchen trend has been to minimize the number of walls in the interior of the home.  The goal is to enhance the elegance and have the natural finishes speak for themselves.  In previous farmhouse kitchen designs, areas of the home such as the living and dining area were considered well-defined areas but now, the rooms are merging and the rooms are opening up to make the space feel larger.
Wood Cabinetry  |
Farmhouse kitchens almost always include wood cabinets because it enhances the modern farmhouse look and feel.  Most modern farmhouse kitchen cabinets are white, but with the right countertops, accessories and hardware, any color can work.
For most farmhouse-style kitchens, the color scheme tends to include more neutral tones, with white, black, and wood shades as the leading components. You can also incorporate a navy and gray color scheme in more modern style farmhouse kitchens. A  light shade will pop against navy cabinetry or blend nicely with white and a darker shade will contrast nicely against light or white cabinets. Farmhouse kitchen décor ideas aim to be simple so many have stayed away from incorporating marble or granite but focused more on concrete or a smooth quartz for their counter-top design.  into their design. Instead, try concrete counter-tops or a smooth quartz. However, if you want to add a bold element to your space, feel free to do so- it's your kitchen and you have the ability to make it your own.
A typical lighting arrangement for a farmhouse kitchen typically includes a lantern pendant light. Hanging light fixtures provide enough light in your space and the materials can match the color scheme in the kitchen making the look smooth and cohesive. As far as drawers and cabinets, black matte is the go-to for farmhouse kitchens.  The black matte pops against kitchen cabinets of all paint colors especially against white and perfectly fits your overall theme. Whatever hardware you decide to use, make sure your faucets are in the same finished so the kitchen looks unified. Copper and bronze faucet finishes have been a very popular choice. Exposed wood on countertops, an island or other accents in the space are a must for farmhouse kitchens. A majority of homeowners who have a farmhouse style kitchen have incorporated floating wood shelving or a kitchen island with a contrasting wood countertop.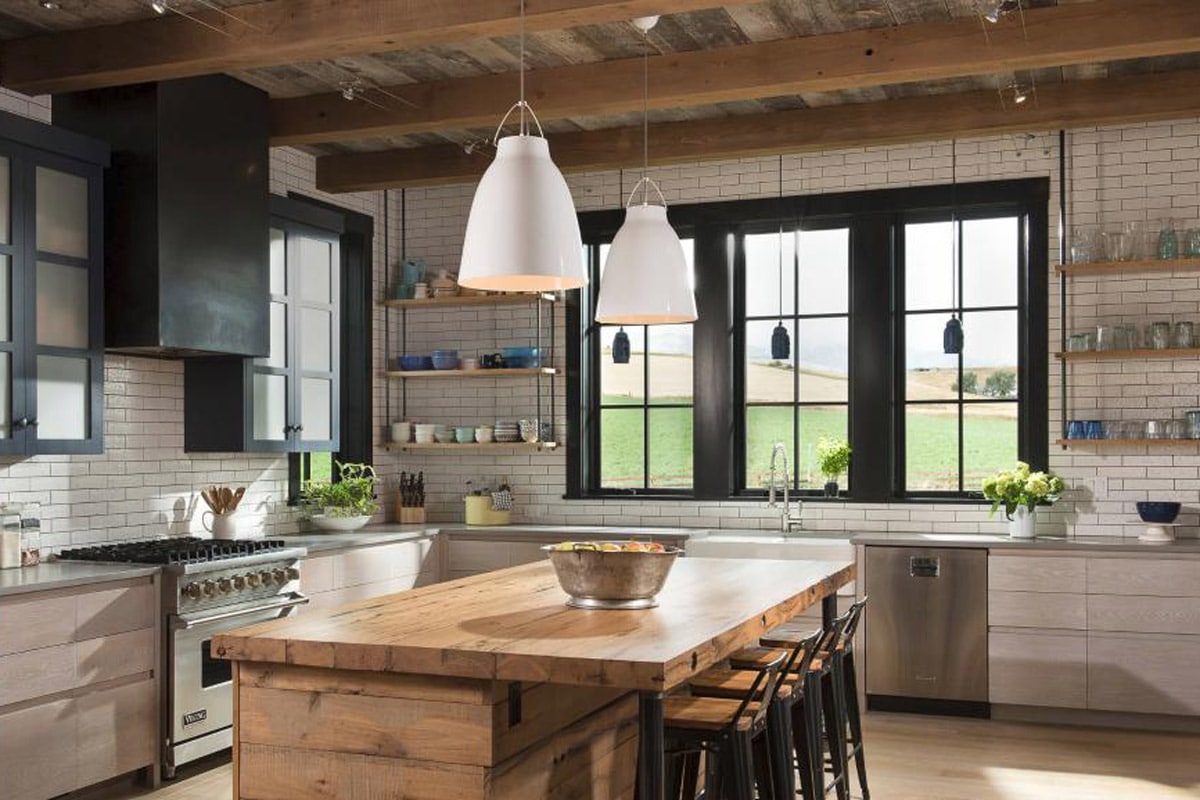 photo by: North Fork Builders of Montana, Inc.
Hardwood Floors  |  Wooden Benches
Get an inside look at the interior of a farmhouse kitchen with these designs.
A Farmhouse Sink  |  Wide & Deep Functionality
Farmhouse kitchens give off a charming feel and offer many different variations to the overall design of a modern and rustic farmhouse kitchen. It's one thing to admire a farmhouse kitchen and the elements that make it unique, but incorporating similar elements to your kitchen but focusing on making it your own is a project in itself. If you feel overwhelmed by the process, determining the must-have elements you want incorporated into the design of a modern farmhouse kitchen is a great place to start.
Gray Cabinetry
There are a number of elements that make up every farmhouse kitchen and add to the overall modern farmhouse style look. However, if there are ideas such as interior sliding barn doors that may not be your style, they can be adjusted to your liking and overall budget and lifestyle. The decor elements of a farmhouse kitchen are the basic These décor elements are the  most commonly used in farmhouse kitchens, but swapping out the look of tile will not alter the design and will make it more personalized. Feel free to mix and match these farmhouse kitchen details, and design a kitchen that suites you and your home.
Modern window styles are responsible for providing light, insulation, and proper ventilation as well as being a central design statement within your home. The more natural light that enters your home, the more beautiful your home's surroundings are which is exactly why having large windows and doors are a great investment.