Patio Designs Perfect For Your Home This Summer
From entertaining spaces to cooking and socializing, having an enjoyable backyard patio can bring joy and happiness to your home and your loved ones. If this a project you are looking to complete just in time for summer, here are several unique patio designs to give you the inspiration to move forward on your remodel.
Concrete Patio with Fire Pit
Source: Pinterest
The curved edges of the patio help this metal fire pit to blend right in to the backyard at the center of the patio. If you're looking to add a fire pit to your space, this functional design may be just what you are looking for.
Brick Fire Pit including Multi-Level Designs
Source: Pinterest
Build a stone or brick patio that you can easily adapt to your own yard. These patios feature a multi-level brick design with separate areas for eating and relaxing around the fire pit. We guarantee you will have plenty of room for your guests with this design.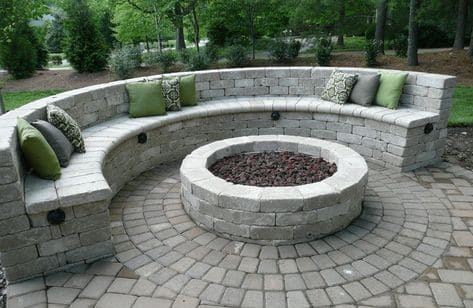 Source: Pinterest
The fire pit is the centerpiece of these stone patio designs. The surrounding seating options allow for more space for guests to gather around the fire pit yet keeping a very stylish, yet modern look to the design.
Source: Pinterest
These outdoor kitchens will inspire any home cook to ditch their indoor kitchen and enjoy the summer weather with a good barbeque. You can decide the size of the desired outdoor kitchen that is just right for your space.
Patio Featuring Grilling Station
Source: Pinterest
This brick patio includes the ultimate grilling station that is perfect for any gathering, along with an outdoor sink for easy cleanup. Get ready for the summer season with these outdoor grilling ideas for your patio today.
Multi-level Patio & Water Feature
Source: Pinterest
A backyard waterfall can add such a relaxing and comforting feel to your space. These modern waterfall designs give your patio a sense of style and uniqueness with the calming sounds and beautiful look.
Patio with Retaining Wall
Source: Pinterest
These patios are surrounded by sloping retaining walsl that can be used as additional sitting around your patio. This look also adds dimension and depth to the overall design of your patio and your entire backyard.
Patio Designed for Comfort
Source: Pinterest
Spacious patio design with various types of seating including lounge chairs, dining chairs, extra seats that can accommodate guests are great for large family gathering experiences. Bright decorating color combinations, like black and white, or patterned fabrics such as energizing stripes, compliment outdoor furniture and summer decorating ideas, making outdoor rooms look cheerful and inviting. Strong contrasts and bold decoration patterns make your space look modern and ready for summer gatherings by the fire with even better company.
Source: Pinterest
These stone structures patio bars are perfect for hosting get togethers or even cook outs with family and friends.  By combining a bar counter and chairs, everyone can visit and socialize in a fun and enjoyable setting. If you want a grill to be included in your outdoor bar design, make sure it is placed correctly so smoke from the grill does not get into the house or large gusts of smoke blowing in the faces of your guests.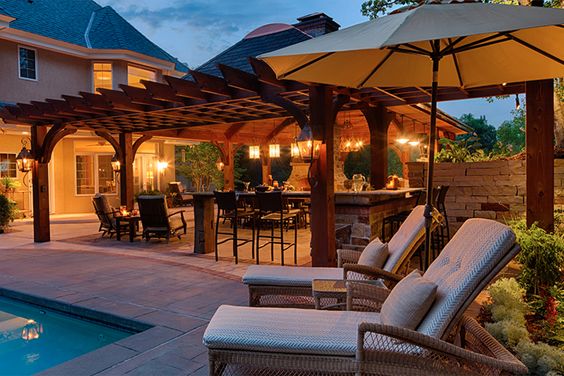 Source: Pinterest
These poolside patio designs offer plenty of space to relax, along with a separate area for dining. Incorporating a pool in your patio design is fun for any age to enjoy during the summer months and a perfect place to host a gathering.
Patio with Modern Landscaping
Source: Pinterest
For those of you with smaller backyards, these two modern patio designs feature a unique relaxing space that make your backyard look larger simply by adding a minimal amount of modern landscaping features a cooking/dining area and some minimalist landscaping.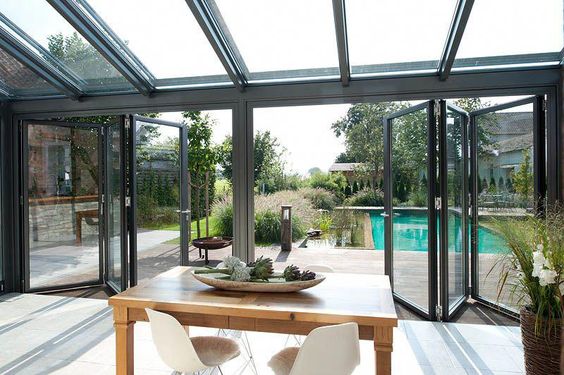 Source: Pinterest
An enclosed patio allows you to enjoy your beautiful space even during a rainy summer day. Turn your backyard into a space as comfortable as any other room in your home by building a screened in patio like the first photo or adding in glass doors such as the second photo. So many options depending on what you are looking for for your dream patio.
Decorative Stone Paver Patio
Source: Pinterest
By adding decorative brick or stone pavers to your space, you will get a classic clean look to your patio that can also be a DIY-friendly project.
Source: Pinterest
The photos above display two large and open patio spaces that allow plenty of room for adding furniture and other amenities desired.
About Us
First founded as a siding company in 1977 in Waunakee, Wisconsin, our company has evolved into a full-service interior and exterior remodeling resource. With years of industry experience in materials selection, design expertise, and professional custom craftsmanship, we've established ourselves as the premier remodeling company in South Central Wisconsin.
If you have any questions, give us a call at 608-709-7517  or schedule a free consultation here.