What Are The Leading Design Trends of 2022?
Home design trends are constantly changing. Now that we've settled into the new year, it's time to start thinking about which design trends are transforming homes in the Madison area.
If you're planning a home remodel this year, it's important to know about the current styles. If you're not planning a remodel – maybe you should be! The meteoric rise of the real estate market means a new opportunity to stay way you are at and make your house the home you've been wanting.
If you watch any home improvement/design show on HGTV, you'll know that "open concept" layouts are very popular in today's homes. Many new-construction properties are built with an open layout that connects the dining room, living room, and kitchen, and most remodels are looking to remove walls between rooms to create a modified open concept.
These floor plans are popular because they create a sense of openness in the house and allow family members to spend more time together in shared spaces, even when they're taking part in separate activities. Parents can be in the kitchen preparing a meal and simultaneously keep an eye on the kids playing in the family room playing. Everyone is essentially enjoying the same space together. Even if your home was not initially built with an open layout, you can still create a sense of openness by removing non-load bearing walls. Consult with a contractor and engineer to ensure this work is done safely.

Photo credit: Renewal by Andersen
More Natural Lighting is an Emerging Trend
Natural lighting is good for the mind, body, spirit – especially as we continue to navigate the isolation associated with the coronavirus. Modern homes rely heavily on natural lighting to keep their space well-lit and attractive. Today's energy efficient windows and patio doors enable more use of natural lighting without driving utility bills through the roof.
Find ways to emphasize your home's natural lighting in 2022. The following tips can help:
Replace dark curtains and blinds with sheers that provide privacy, but allow natural light into your house.
Keep your windows clean and prune back any shrubs or trees to allow as much natural light into your home as possible.
Replace old windows with new energy-efficient windows, to ensure that the natural light you're allowing into your home won't heat your space.
Replace small windows with larger, bay, bow or picture windows to bring more light into your home.

Photo credit: Sherwin Williams
Brighten Your Home with Color, Color, Color
Neutral gray and beige were popular colors in homes for years, but that time has come to an end. Homeowners tired of living homes with boring walls are suddenly inspired to paint their walls in bright but soothing colors like blues and greens. In fact, this trend is reflected in the 2022 colors of the year for nearly every major paint company.
Ask yourself: what colors would you like to paint your walls in the coming year?
Natural Materials Are All the Rage in 2022
Natural materials like wood and stone are making an impression on homeowners who want to go back to basics and remember what matters to them. Stone can be found everywhere from the floors to the counters, back splashes, and more. Wood can be found in the floors, furnishings, and in the trim around the windows and doors.
Natural materials give the home an earthy quality that creates a sense of peace and contentment. Find ways to incorporate natural materials into your home to create a soothing space.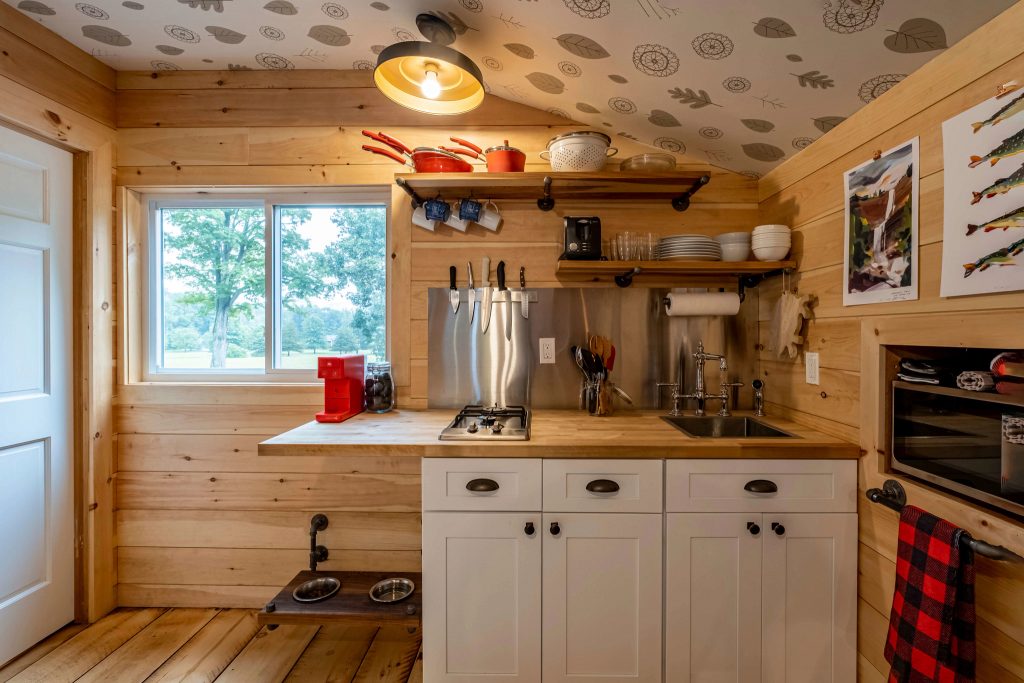 Photo credit: Renewal by Andersen
Embrace the Trends of the Coming Year & Bring in the Light with New Windows
Andersen Windows recently posted their own list of 2022 Design Trends and as you might expect, our lists are quite similar. However, Andersen highlights how manufacturers are adapting products to meet trends, especially in regards to windows. Once only achievable with a commercial window frame, floor-to-ceiling windows and arched styles are now a real possibility as product offerings have expanded to meet designer demands.
Renewal by Andersen has been in front of the curve offering extended sizes and an expansive group of specialty windows for more than 20 years. Made with a high-tech composite wood material called Fibrex, Renewal has the flexibility to make unique, innovative products to help you achieve your home design goals in 2022.
About Waunakee Remodeling
First founded as a siding company in 1977 in Waunakee, Wisconsin, our company has grown into a full-service interior and exterior remodeling company. With years of industry experience in materials selection, design expertise, and professional custom craftsmanship, we've established ourselves as the premier remodeling and window replacement company in South Central Wisconsin.
If you have any questions, give us a call at 608-709-7517  or schedule a free consultation here.